QuickJim TT-Twister Lockout Tool for Commercial Doors

Designed to unlock a commercial pair of doors. It is engineered to slip between the gap in a pair of non-mullion doors and twist the inside thumb turn to unlock the door. It can also be used through some louvered doors, mail slots and gates.
ONLY SOLD TO LOCKSMITHS and POLICE OFFICERS
TT-TWISTER-14 by QuickJim™ is a multi-use lockout tool engineered to slip between a non-mullion pair of doors and turn the inside thumb turn of a deadlock. It transfers rotating thumb motion 180 degrees from the outside of the door to the inside where it can deliver several pounds of twisting torque to the thumb turn.
TT-Twister is made of 304 stainless steel and is designed to be flexible yet rigid. It is less than 1/4" thick .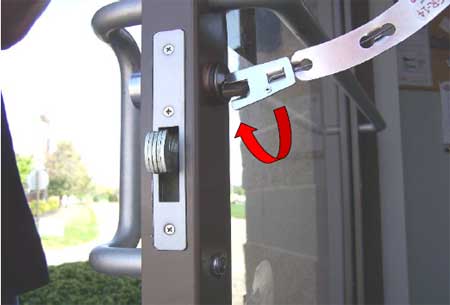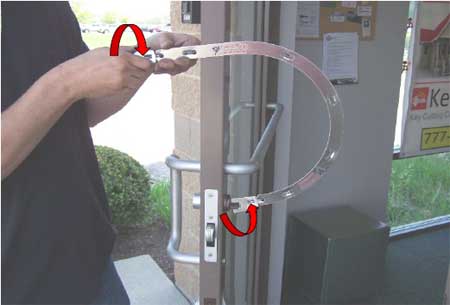 Insert between the doors and position on the thumb turn. Twist 360 degrees to unlock door. Depending on the width of the gap between the doors it maybe necessary to put a slight twist in the twister to better reach the thumb turn.
If you need a bigger gap, use a solid wedge or pump wedge (not included) to create at least a 1/4" gap between the pair of doors.
As you are twisting the thumb turn, make sure to wiggle the door in/out to relieve any binding pressure on the bolt or latch.
CAUTION: Do not over twist or bend the TT-Twister. If the tempered spring wire axel gets kinked or bent, it will reduce its effectiveness and may stop working all together. Not covered by warranty.
TT-TWISTER WAS NOT DESIGNED to unlock cars. It WILL get stuck in a car door if you try to use it like a linkage tool!
Quickjim, LLC is not responsible for any incidental or direct damage cause to the door or the lock . Further, Quickjim, LLC is not responsible for personal injury caused while using this product. Use at your own risk.
Possession of this tool may violate local or state criminal laws. Check with your attorney.
---
We Also Recommend
---